Common questions we get from clients when reviewing their proposal… 
What the heck is base shoe, is that the same thing as quarter-round?
My other quotes don't include this, does it really need to be replaced?
Can you remove and reset the same shoe?

 

Can you install my new floor without base-shoe?
Base shoe or shoe molding is a half-inch by three-quarter-inch piece of trim at the bottom of a baseboard. It is the connecting piece between the baseboard and the wood floor. Quarter-round is technically three-quarter by three-quarter.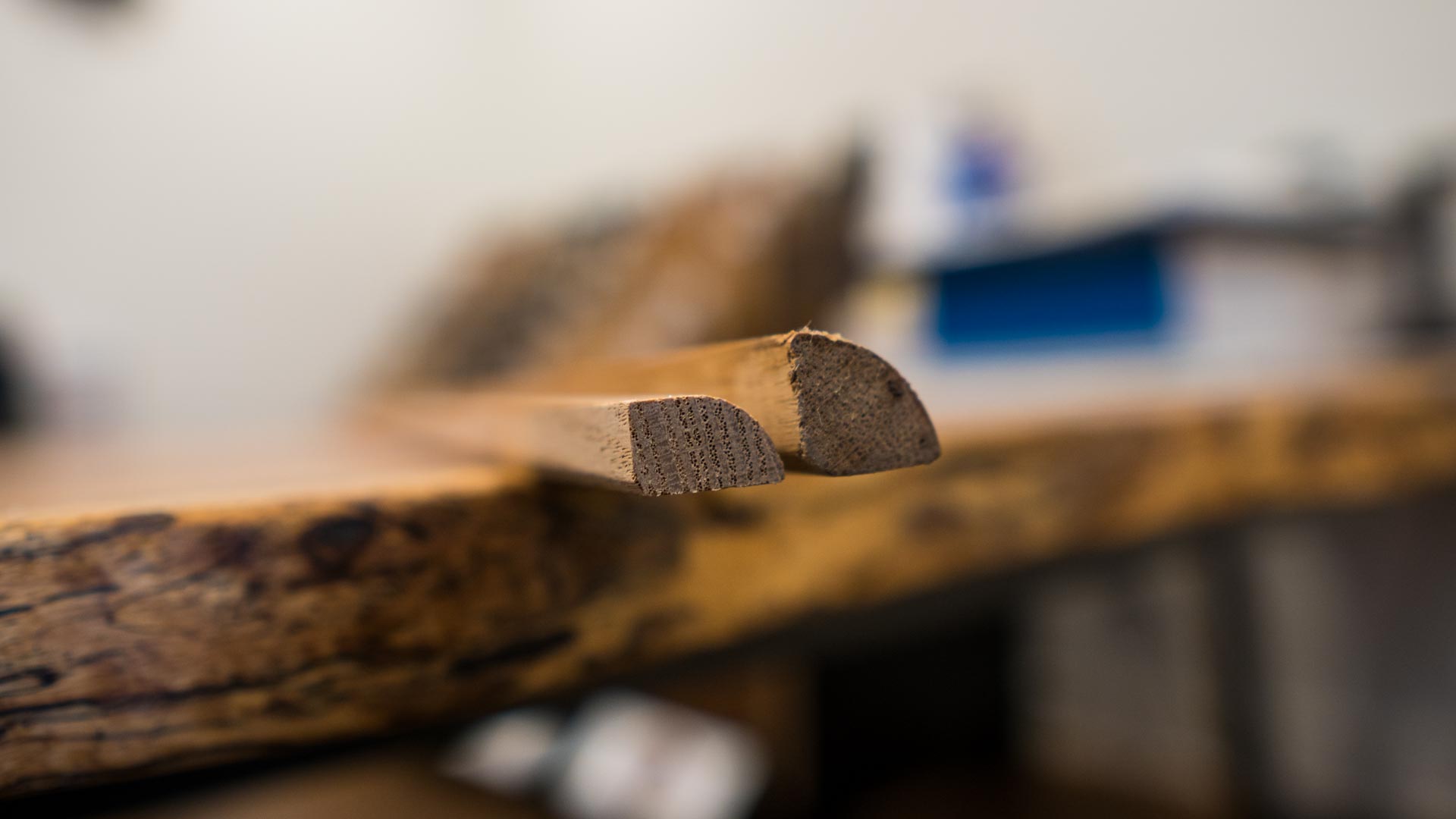 Base shoe is by far the most popular molding we see in our client's homes and is what we would consider the standard molding since it's most commonly used on new home construction today.  We see quarter-round in older homes, which have frequently settled and have a sizeable gap between the bottom of the baseboard and the hardwood floor.  
You will usually see base-shoe installed over hard surfaces like tile, vinyl, and hardwood.   You will not see base-shoe installed over carpeted rooms.  Hard surfaces like hardwood floors need room for expansion and we do not recommend installing wood tight against the base-board, for this reason shoe-molding is often installed to cover the expansion gap.  
Why Do We Recommend Removing Base Shoe?
If we're refinishing your floor, it's nearly impossible to sand up to the edge of the shoe molding without damaging it or leaving an unsightly gap underneath the base shoe.   I can instantly tell whenever a floor has been previously sanded without having the base shoe removed.  Take a look at the photo below as evidence.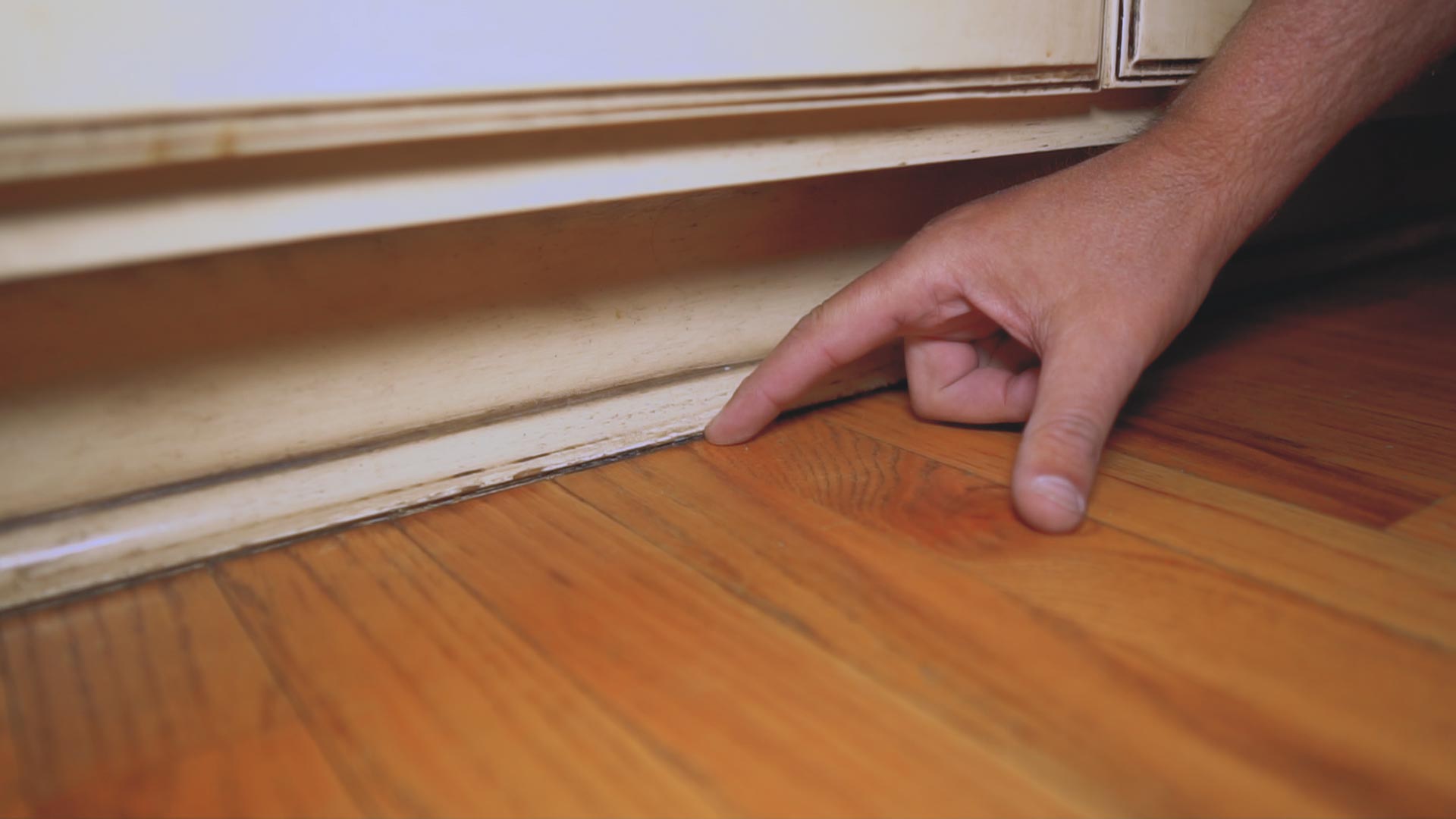 There are rare occasions where we will make an exception and leave the base shoe in place.  If your cabinets have a custom faux finish that would be difficult to match, we will leave the shoe in place and delicately hand sand around it.  This process is much slower and very time consuming but necessary if we want to preserve the existing custom finish. 
Can You Remove the Shoe and Reinstall It?
We've tried this approach and the results weren't up to our standards.  Removing the shoe inevitably damages the molding.   Removing the existing nails is time consuming and will also damage the molding.  Whenever you re-install with new nails, the end result is an unsightly piece of molding.   Makes zero sense…take it from our experience it's much easier to replace with a new piece of molding.  
Can You Install New Hardwoods Without Base Shoe?
We get this request from time to time and it certainly has become a very popular look in trade/design magazines.  In order to meet the standards and guidelines set forth by the National Wood Flooring Association, we always recommend leaving a minimum of ½" expansion gap between the hardwood floor and the wall.  For this reason, we always recommend the use of base shoe. 
We want to replace your base shoe with something that matches your baseboard trim or cabinets as closely as possible. We recommend installing pre-primed base shoe molding if you have painted trim.  If your trim is currently stained, we will scope in molding that matches the same species as your trim (red oak, white oak, maple, etc..) and stain as close to the existing color as possible.  In our proposal, we include an option to have a painter caulk and paint the baseboard once the base shoe has been installed. Our turn-key process will have your trim looking brand new. 
As flooring professionals, we stay at the forefront of new advancements in the industry through continuing education and training courses provided by the National Wood Flooring Association. Our knowledge enables us to educate our clients on the pros and cons of various hardwood solutions. Our job is to listen to our clients and provide solutions that best fit their lifestyles. We provide easy and stress-free installations by staying informed, prioritizing clients' needs, and setting proper expectations.