This is easily one of the top 5 most common questions we get whenever we complete a project for a client.  It's a great question since there are rug pads that are actually very bad for your floor.   The last thing you want to do is spend money revitalizing your hardwood floors and then immediately damage them with an inadequate rug pad.
Rubber rug pads are a big no-no for your hardwood floors.  These pads may use low-quality adhesives or synthetic rubber that contains chemicals that will react with the finish on your hardwood floors.  There have been many occasions where we have been hired to refinish a client's floor, the area rugs have been rolled up and removed, and we've had to literally peel the rubber rug pad off the floor. 
For hardwood floors, the best type of rug pad for your area rug is a FELT rug pad. Felt rug pads are made from compressed felt fibers and provide a soft and protective layer between your rug and hardwood floors. Here are TOP reasons why felt rug pads are ideal for hardwood floors:
Protect your floors: Felt rug pads offer a thick layer of protection to your hardwood floors from scratches, dents, and other damage that can occur from heavy furniture or foot traffic.  You can purchase 1/4", 3/8", or 1/2" pads.
Secure your area rug: Felt rug pads are dense and thick, which helps to prevent your area rug from slipping or sliding on your hardwood floors. This not only makes your space safer, but also keeps your rug looking neat and in place.
Soften your steps: Felt rug pads are soft and cushiony, which can help make your area rug more comfortable underfoot. Additionally, the added cushioning can help reduce noise levels in your home.
Durable: High-quality felt rug pads are very durable and can last for many years with proper care.
The most important reason, they do not bond or react with the finish on your floor!
When choosing a felt rug pad for your hardwood floors, make sure to select one that is appropriate for the size and shape of your area rug. We like to refer our clients to the Rug Pad USA website where our clients can order a custom sized felt pad with their desired thickness.   We're big fans of their Eco-Plush Pad.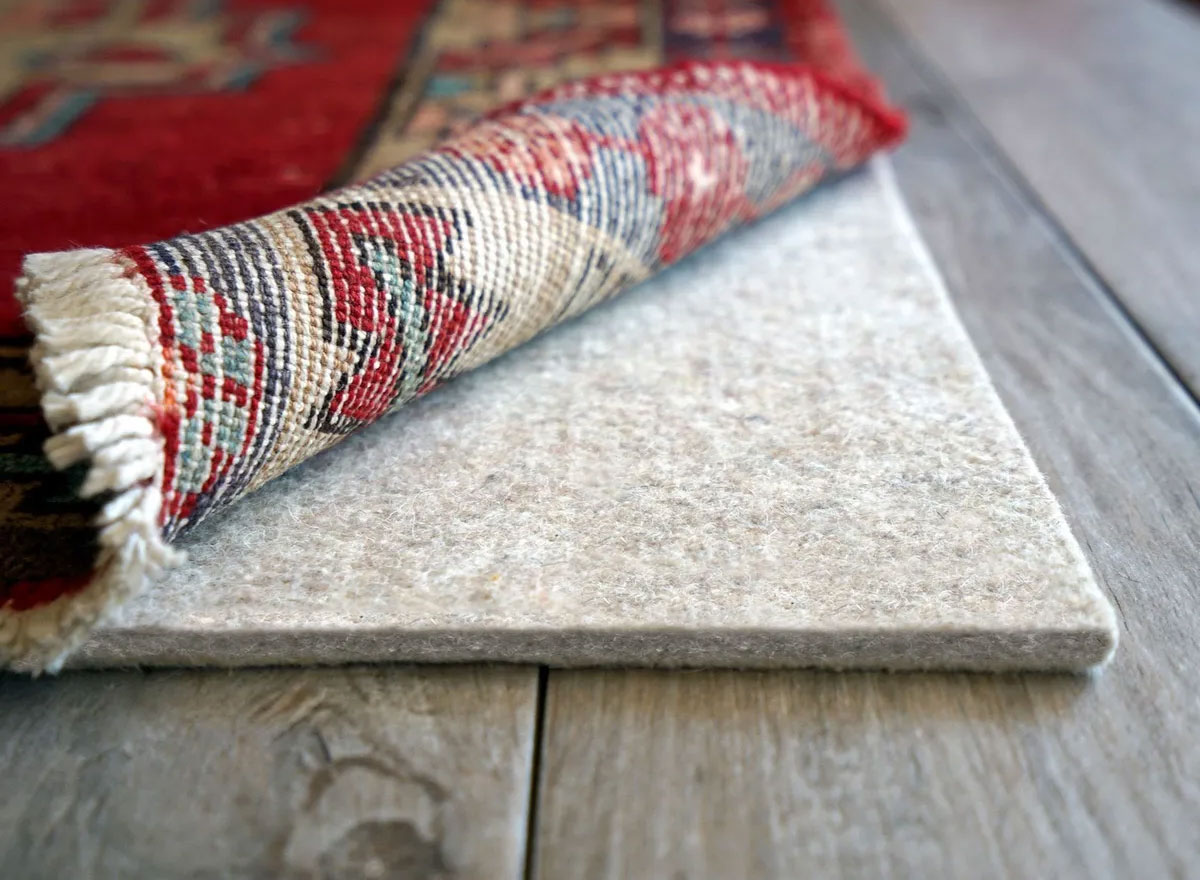 Check out our other blog topics under the resources tab or hit the "Get Quote" button at the top of the screen if you'd like to schedule a consultation. Thanks for taking the time to learn more about Kimminau Floors!
Our Commitment To Clients
As flooring professionals, we strive to stay educated on the various flooring systems available on the market. We stay at the forefront of new advancements in the flooring industry through continued education and training courses provided by the National Wood Flooring Association. Our knowledge enables us to educate our clients on the pros and cons of various hardwood solutions.  Our job is to listen to our clients and provide solutions that best fit their lifestyles. We provide easy and stress-free installations by staying informed, prioritizing clients' needs, and setting proper expectations.