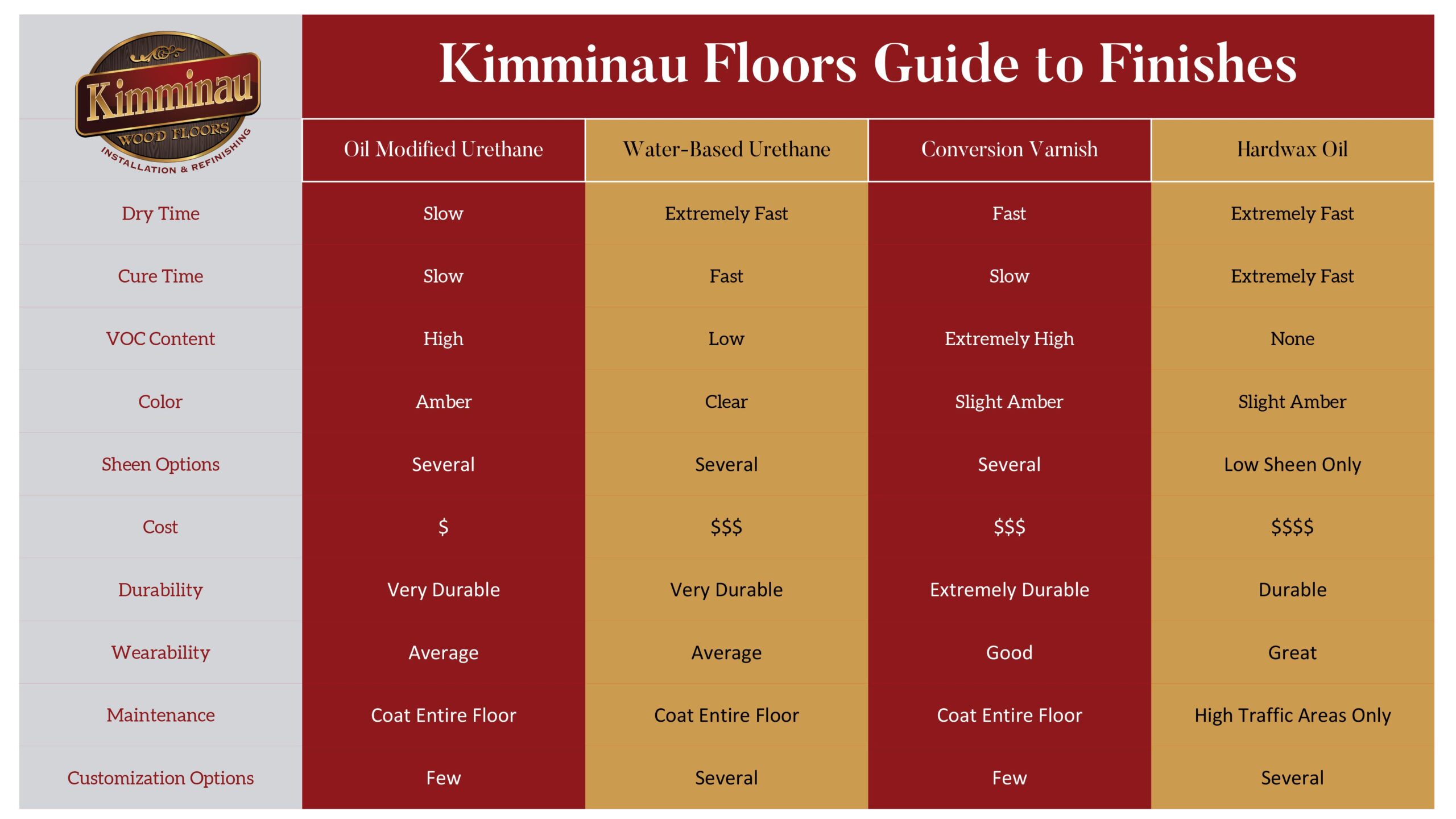 This is hands down the most popular question we get when it comes to our various finishing services.  I wish I could tell you there was a one size fits all solution but the answer to this question really depends on the factors that are most important to you.  This topic can be very confusing and in my opinion there's a lot misinformation about finishes published all over the web.  
I'm going to do my best to simplify and breakdown the pros and cons of the various finish types.  I've come up with what I feel are the 8 most important characteristics to evaluate.  Let's dive in and define them first.
Dry Times – how long does the finish take to dry.  This will dictate when the floor can be walked on with socked feet or when another coat can be applied.
Cure Times – how long does it take the finish to fully chemically react and reach full hardness/effectiveness.   This will dictate when area rugs can return and when we suggest resuming full traffic (pets, etc..).
VOC content – most finishes emit Volatile Organic Compound gases as they finish drying and curing.   It can be harmful to be around finishes with higher VOC contents if you do not have the proper respiratory equipment.   If you plan on staying in your home during the finishing process, you will definitely want to utilize a finish with a low VOC rating. 
Color – Some finishes are clear, some have a slight amber, others have pigment added to alter the tone, and some will continue to change color as they age.
Sheen Options – most finishes have multiple sheen options ranging from super flat to gloss and everything in between.
Costs – review the costs of applying each finish type.
Durability & Wearability – durability is tough to quantify.  The tabor abrasion test is often used to measure hardness but this test can be misleading.  I will share which finish types last the longest before another maintenance coat is necessary and how the finishes look as they're being worn.
Ease of Maintenance – one of the most important factors and one that is also rarely discussed is the frequency at which maintenance coats need to be applied and what this process entails.
I'll start with polyurethane floor coatings since they've been extremely popular over the past 40 years.  Urethane floor coatings dry to provide a hard-protective plastic film on top of your floor.  There are two main types; Oil-Modified Urethane and Water-Based Urethane.  Let's dive in and discuss these 8 characteristics for both.
Oil Modified Urethane aka "Poly"
Dry time – very slow, 8-12+ hours depending on site conditions.
Cure time – traditionally very slow curing finish around 30 days.  Advanced OMU finishes claim 3-5 days.
VOC Content – usual range of 350-550.  For reference, this is about double of water-based coating systems.  Has a strong odor that will linger for about 1-2 weeks.
Color – amber tint and will continue to amber as the finish ages (yellow/orange tint).
Sheen – many options from matte-gloss.  Poly tends to be shinier than water-based urethanes because of the thicker film build.  Satin poly will look shinier than satin water most of the time.
Costs – typically $30-$40 gallon. Significantly cheaper (25%) than water-based coatings.
Durability & Wearability – tend to perform very well and comparable to two-component water-based systems.  Oil modified coatings have a higher solids contents than water-based systems.  Provides a thicker protective film than water.
Maintenance – Recommend a maintenance coat every 5-7 years depending on traffic in your home.  Will need to move all furniture out, buff the entire floor and provide a new coat.
Dry Time – Extremely fast 60-90 minutes on average.  Multiple coats can be applied in one day.
Cure Time – most are 90% cured within 48 hours. Full 100% cure in 3-5 days on average.
VOC Content – tend to be much lower than OMU (200 range).  Very little smell as well.
Color – clear and will not amber near as much as OMU as the finish ages.
Sheen – multiple options available – tend to be less shiny than OMU.
Costs – single component finishes $60-$90/gallon, two component $100-$160. About 4 times the cost of OMU.
Durability & Wearability – catalyzed two component finishes perform as well or better than OMU – with faster dry/cure times.  Single component finishes typically do not perform as well.  Two-component finishes have a stronger molecular bond and are far more durable than single component finishes.  Water typically has a solids content around 35% which is 10% less than OMU.  Water-based systems provide a thinner protective film, but the added catalyst makes it very hard and durable. 
Maintenance – Recommend a maintenance coat every 5-7 years depending on traffic in your home.  Will need to move all furniture out, buff the entire floor and provide a new coat.
Another huge advantage water has over oil is the variety of sealing options.  From white, clear, slight amber, full amber tones.  This gives us more customization options to achieve the exact tone you're looking for on your floor.  Light natural floors are extremely popular right now.

In summary, we find the water-based systems to be a far more convenient and overall a better performing finish than oil-based coatings.  Most of our clients are also trying to eliminate the yellow/orange ambered tint on their floor caused by the Oil-based polyurethane applied the last time their floor was finished. The only real advantage we see with OMU is that it's less expensive.  However, the limited cost savings do not compete with the convenience (fast dry/cure times, low VOC) and durability that water-based coatings provide.  We're able to minimize the disruption in our client's home and greatly reduce the amount of time they need to be off the floor with our commercial grade water-based offerings.  For this reason, we really haven't used OMU in the past 5 years.
 Alcohol based, acid curing finish.  Aka Swedish Finish.
Dry Times – Very fast, usually couple of hours.
Cure Time – traditionally very slow. 60 to 90 days.   
VOC Content – extremely high 700+.  Must follow strict ventilation protocol.
Color – clear to slight amber.  Finish provides great optics, very clear.
Sheen – multiple options available.
Costs – comparable to water-based system.  Applicators can't be reused, and full faced respirators are also required which adds to the costs. We charge about 15% more to apply this finish type. 
Durability & Wearability – Extremely durable.  Finish is actually softer than urethane coatings, but it has self-healing characteristic and scratches don't tend to show as bad.  Finish tends to scratch clear whereas urethane coatings may leave white/grayish line.  
Maintenance – Recommend a maintenance coat every 7-10 years depending on traffic in your home.  Will need to move all furniture out, buff the entire floor and provide a new coat.
This is a great option for new construction.  Not typically a great fit for remodeling projects that have time constraints were the client is trying to move back in quickly.  This is a toxic finish and extra precaution needed with perishable food items, plants, and pilot lights.   Clients will have to decide if the added performance of the finish is worth the hassle of being out of the house for a few extra days.  
Hard-Wax Penetrating Oils
This finish type penetrates into the wood until the fibers are fully saturated.  Protects from within instead of providing a hard-protective coating on top.
Dry Times – Very fast, couple of hours
Cure Time – Extremely fast, 12-24 hours. Significant advantage over other finishes.
VOC Content – products we use range from 0-10 VOC.  Practically no VOC's are emitted with these products. No smell. Very "green" product. 
Color – Range of color options and allows for certain color techniques that are difficult to achieve with traditional oil-based stains. 
Sheen – limited since this is a penetrating finish.  Sheen is very low.
Costs – this is a premium coating system.  About 15% more than our water-based systems.
Durability & Wearability – This type of finish wears extremely well since there isn't a hard, protective film on top.  The film-based urethane & conversion varnish systems are reflective and as they break down you tend to see the imperfections.  This type of finish has an advantage since it hides the imperfections much better.  We give it a very high score in terms of wearability.  It will however require more frequent maintenance applications and depending on how you define durability – could be considered less durable. 
Maintenance – The real advantage with this finish is how the maintenance coats are applied.   With this type of coating, we recommend buffing in a maintenance coat every 2-3 years.  The other systems are every 5-10 years. The difference is, we don't have to move all of your furniture off the main floor in order to do it.  We can buff in the finish on the main traffic areas and it will blend right in.  While the applications will be required more frequently, every couple of years, it's significantly easier to do it and only takes a few hours.  For this reason, we recommend this finish for all of our clients that have larger and more active dogs.  
We see this type of finish gaining a lot of traction going forward.  Zero VOC, fast drying, extremely fast curing, and easier maintenance down the road makes this finish very appealing to many of our clients.
Our job as a flooring professional is stay educated on the various finishing systems available in the market.  New improvements are continually made, and we pride ourselves at staying at the forefront of these advancements through continued education/training courses.  We do our best to educate our clients on the pros and cons of each type of finish.   We want to set the proper expectations and let our clients ultimately decide on what fits their lifestyle and needs the best.

Thanks for taking the time to read this lengthy blog topic…If you have other questions or want to research other blog topics, please visit www.KimminauFloors.com and take a look under the resources tab.