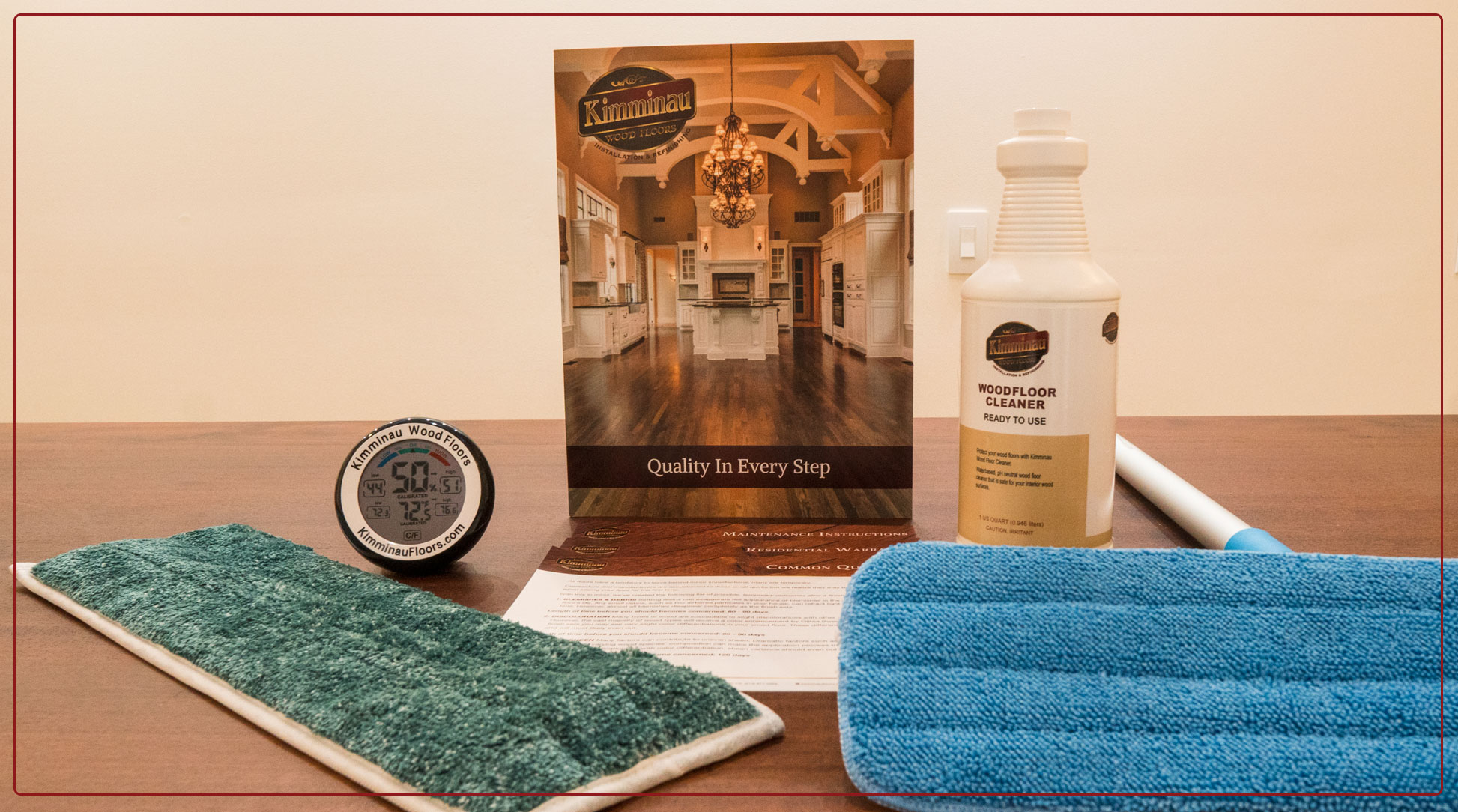 After refinishing or installing your hardwood floors, it's important to establish a regular maintenance routine to help preserve the beauty and longevity of your new finish. Here are some best practices for maintaining your newly refinished hardwood floors:

Place walk off mats in entry ways, sink areas, dog bowls, and plants to minimize the amount of dirt and water that comes into contact with your hardwood floor.  Nothing will break down your finish faster than dirt and water.


Use protective mats and pads: Place protective mats or pads under furniture legs to prevent scratches and dents. Use area rugs or runners in high-traffic areas to protect the finish.


Keep your pet claws trimmed.


Avoid wearing high heels or sports cleats that will scratch and dent hardwood floors.


Regular sweeping and vacuuming: Regularly sweep or vacuum your floors to remove dirt, dust, and debris that can scratch the finish. Be sure to use a soft-bristled brush or hardwood floor attachment to avoid scratching the finish.


Avoid exposure to direct sunlight: Direct sunlight can cause the wood to fade and the finish to dry out and crack. Use curtains or blinds to block direct sunlight, and move rugs or furniture periodically to avoid uneven fading.


Use a humidifier throughout the winter/dryer months to minimize gaps. Maintaining consistent humidity levels year-round will minimize expansion in the summer months and contraction in the winter months.



Proper Cleaning & Maintenance: We provide all of our clients with a professional maintenance kit and floor cleaner whenever their project is completed.  Here's an overview on how to use each pad provided in the kit.

Dust Mop:  Use Kimminau Floors Maintenance Mop and Untreated Dust Pad on your floor regularly. This will keep the sand and grit off your floor that may cause premature wear.

Cleaning Mop: Wipe up food and spills immediately using a dampened (not soaking wet) Kimminau Floors Maintenance Mop with Cleaning Pad. Excessive use of water can damage wood. Regular cleaning should be done with Kimminau Floors cleaning solution. This specially formulated hardwood floor cleaner is designed specifically for your finished floor. Follow directions on the bottle for correct application.  Contact our office when you run low.


Now it's time for my rant…unfortunately over half of the cleaning products you see at the larger retailers are bad for your floor and will VOID our warranty.   Under no circumstances should you ever apply a wax, oil, soap, or polish that will contaminate your floor.  These products are designed to put you into a never-ending cycle of continuous application leaving your floor smudgy and slippery.  

Applying improper cleaning products will prevent us from being able to successfully apply a maintenance coat in the future.  You will have to prematurely refinish your floor to remove the contamination.  This reduces the life of your floor and is expensive.   

Please call us when you run out of solution, we will send you more!

Check out our other blog topics under the resources tab or hit the "Get Quote" button at the top of the screen if you'd like to schedule a consultation.

Thanks for taking the time to learn more about Kimminau Floors!
Our Commitment To Clients
As flooring professionals, we strive to stay educated on the various flooring systems available on the market. We stay at the forefront of new advancements in the flooring industry through continued education and training courses provided by the National Wood Flooring Association. Our knowledge enables us to educate our clients on the pros and cons of various hardwood solutions.  Our job is to listen to our clients and provide solutions that best fit their lifestyles. We provide easy and stress-free installations by staying informed, prioritizing clients' needs, and setting proper expectations.