Painters and floor contractors get along about as well as democrats and republicans.   Both trades can cause the other a lot of grief…. Let me explain.
Whenever this question is asked to a painter, they will most likely say they need to go first.  
If you ask the flooring contractor, he will tell you he needs to go first.
Reason…Neither trade wants to be second one in and potentially screw up the work the other trade just completed. 
So, who's right?  We've worked on a couple thousand remodeling projects over the past 15 years.  Here's the process that works the best and is utilized by most of the general contractors we do work for.
If you're painting the ceilings and/or spraying the trim, have that completed first.   With the understanding that your trim will need to be touched up later…see this blog.

 

If you're painting the cabinets.  Do this after the floors have been sanded, stained, and double coated.  Hold off on final coat until end of the project.  If any paint gets on the floor, we can buff it off when we complete the final coat. Touching up cabinets is much harder than touching up the floor, especially if the cabinets have a multi-layer faux finish.  For this reason, it makes zero sense to have the cabinets freshly painted before the floors get refinished.
If you're painting the walls.  Do this after the floors have been finished.  It's easy to protect the floors with ram-board when painting the walls. You will also have to touch-up the trim after the floors finished anyway.  Just schedule the painter after the floors are finished and save them a trip.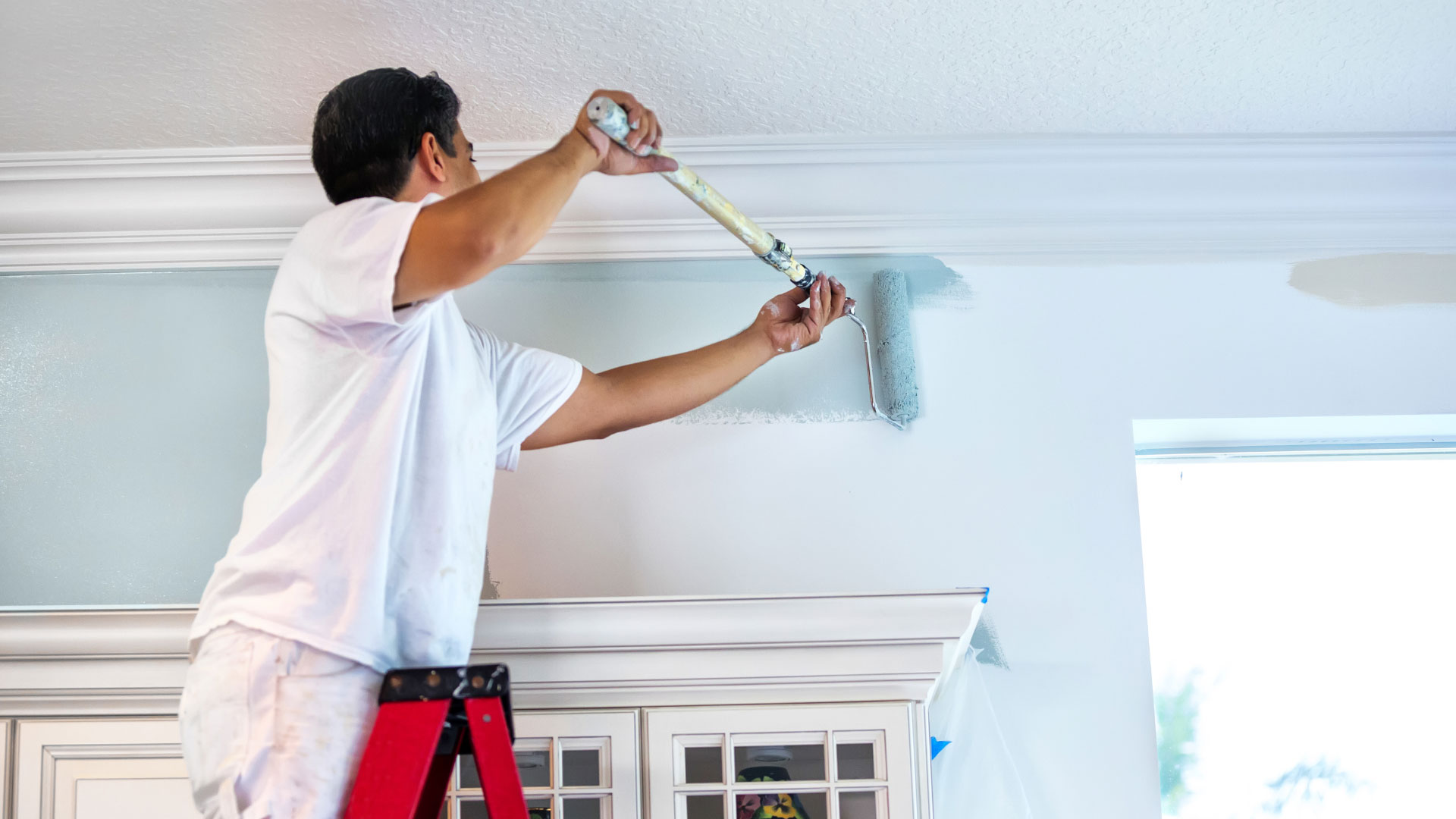 Like many of these questions we're addressing…the answer depends on the situation.   Most of the contractors we work with will have us sand, stain, and double coat the floor prior to having all of the paint work completed.  Roll out ram-board once the floors are sealed, have all of the trim & paint work completed and have us back in at the end of the project to apply the final coat.  The final coat process can easily buff out minor paint splatter on the floors. 
This process avoids a lot of rework and allows the painters and floor contractor to coexist peacefully 🙂
Our Commitment To Clients
As flooring professionals, we strive to stay educated on the various flooring systems available on the market. We stay at the forefront of new advancements in the flooring industry through continued education and training courses provided by the National Wood Flooring Association. Our knowledge enables us to educate our clients on the pros and cons of various hardwood solutions.  Our job is to listen to our clients and provide solutions that best fit their lifestyles. We provide easy and stress-free installations by staying informed, prioritizing clients' needs, and setting proper expectations.