In the world of hardwood floor sanding, every passionate floor expert has their own unique approach and equipment preferences. Much like avid golfers discussing their favorite types of golf equipment, hardwood flooring professionals will enthusiastically debate the superiority of their methods.
Just as no two golf swings are the same, you probably won't find two sanding processes that are identical.  There are however fundamental principles that successful craftsmen adhere to.
In this blog, we will delve into these essential sanding fundamentals. By exploring these key aspects, we hope to highlight why dedicated craftsman achieve superior results compared to contractors who are solely focused on speed.  Join us as we shed light on the artistry behind hardwood floor sanding and the craft that sets true professionals apart.
Overview of Sanding Equipment
First, let's examine the common types of equipment used in the hardwood refinishing process.  Let's take a look at the tools!
Big Machine: A powerful, belt-driven behemoth equipped with 8″-12″ sanding belts. Its main responsibility is to sand large open areas (the field) efficiently. The Big Machine, like the renowned Hummel, allows contractors to cover vast spaces quickly.
Edgers: These smaller machines focus on sanding the perimeter of your floor. With different styles and brands available, their size, weight, and aggression vary. The Lagler Flip, among others, is a popular choice for precision edging.
Buffer: This walk-behind machine operates at lower RPMs (175-300) and is perfect for the final, finer grit sanding. It adds versatility with various buffing attachments.
Planetary Sander: Considered an advanced buffer, the planetary sander possesses greater weight and spins at much higher RPMs. Our Pallmann Spider produces extremely flat floors with a refined scratch pattern. 
Palm Sander: During the final sanding sequences, small handheld sanders like the Festool Rotex play a vital role. They blend the perimeter seamlessly with the main floor area.
These machines, when skillfully wielded by passionate craftsmen, ensure impeccable results in your hardwood floor refinishing project.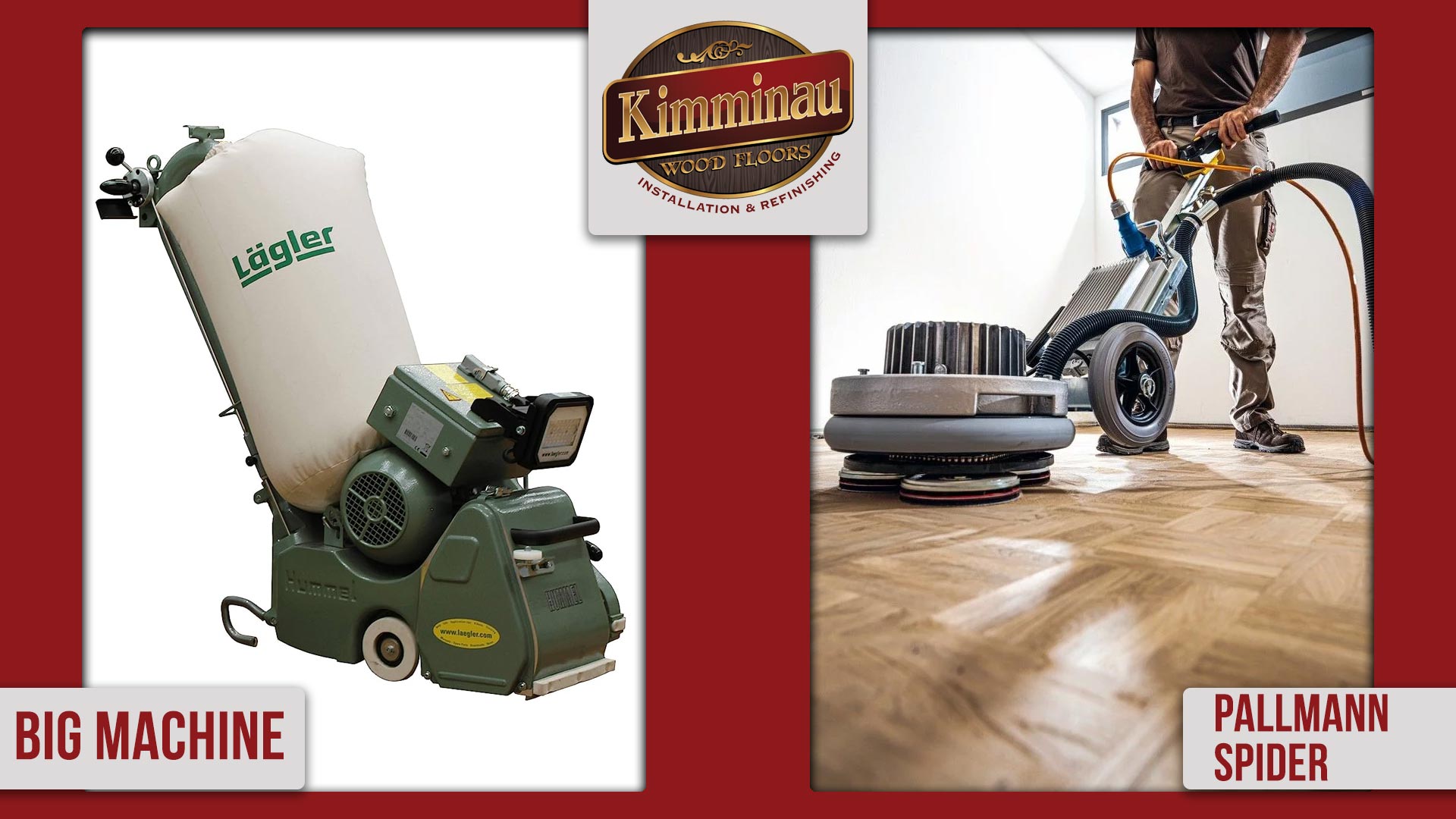 Importance of Grit Progression
Sandpaper grit progression is a crucial aspect of the hardwood floor refinishing process. It refers to the systematic use of sandpaper with varying levels of coarseness to achieve a smooth and even surface on the hardwood floor.
Typically, the sandpaper grit progression starts with coarse grits, such as 24 or 36, and gradually progresses to medium grits like 60 or 80, and then to fine grits like 100, 120, and so on.
Classification & Purposes
Open Coat: 12, 16, 20, 24 grit paper used to removes stubborn old coatings.
Coarse: 30, 36, 40 grit paper utilized to cut uneven floors and removes old coatings.
Medium: 50 or 60 grit paper used to refine previous sanding pass or sands raw floors
Fine: 80 or 100 grit paper used to refine scratches from previous sanding passes.
Extra Fine: 120 or 150 grits paper used rarely to produce extremely fine scratch.
We always begin with the least aggressive grit necessary to remove the existing coating or flatten a new floor. Typically, refinishing projects start with a 40-grit belt, while freshly installed raw floors begin with 50 grit belts.
A key rule is to never skip more than one grit sequence. For example, starting with 40 grit would mean skipping 50, progressing to 60, skipping 80, and finishing with 100. Jumping more than one grit sequence can cause deeper scratches, leading to uneven staining and premature breakdown of the finish in high-traffic areas. Consistent grit progression ensures a smoother and more durable result.
Click here to for a resource that goes into great depth about the importance of sanding sequences.
Planetary Sanding Improvements
Hardwood floor craftsmen meticulously assess both their peers' work and their own based on the following criteria:
Flatness: They scrutinize for any visible wave, chatter, or dish-out on the floor's surface.

Scratch Pattern: Carefully examining for visible scratches, they ensure consistent color throughout the floor and a seamless blend between the field and perimeter.

Finishing: They check for an even sheen across the floor, ensuring there are no missed spots (skips) and no debris embedded in the finish.
 By evaluating these areas, skilled craftsmen uphold high standards of quality and precision in their hardwood floor refinishing projects.
Planetary sanding equipment has revolutionized the hardwood sanding process, making it remarkably efficient for contractors to achieve exceptionally flat floors with a refined scratch pattern. Several reputable brands offer high-quality planetary machines, including the Bona PowerDrive, Lagler Trio, and our preferred choice, the Pallmann Spider. These advanced tools have significantly elevated the standard of hardwood floor refinishing, delivering superior results with precision and ease.
The conventional refinishing process heavily depended on large belt-driven machines, which, if not finely tuned, could leave undesirable chatter or wave patterns on the floor. Examples of these effects are depicted in the photos below: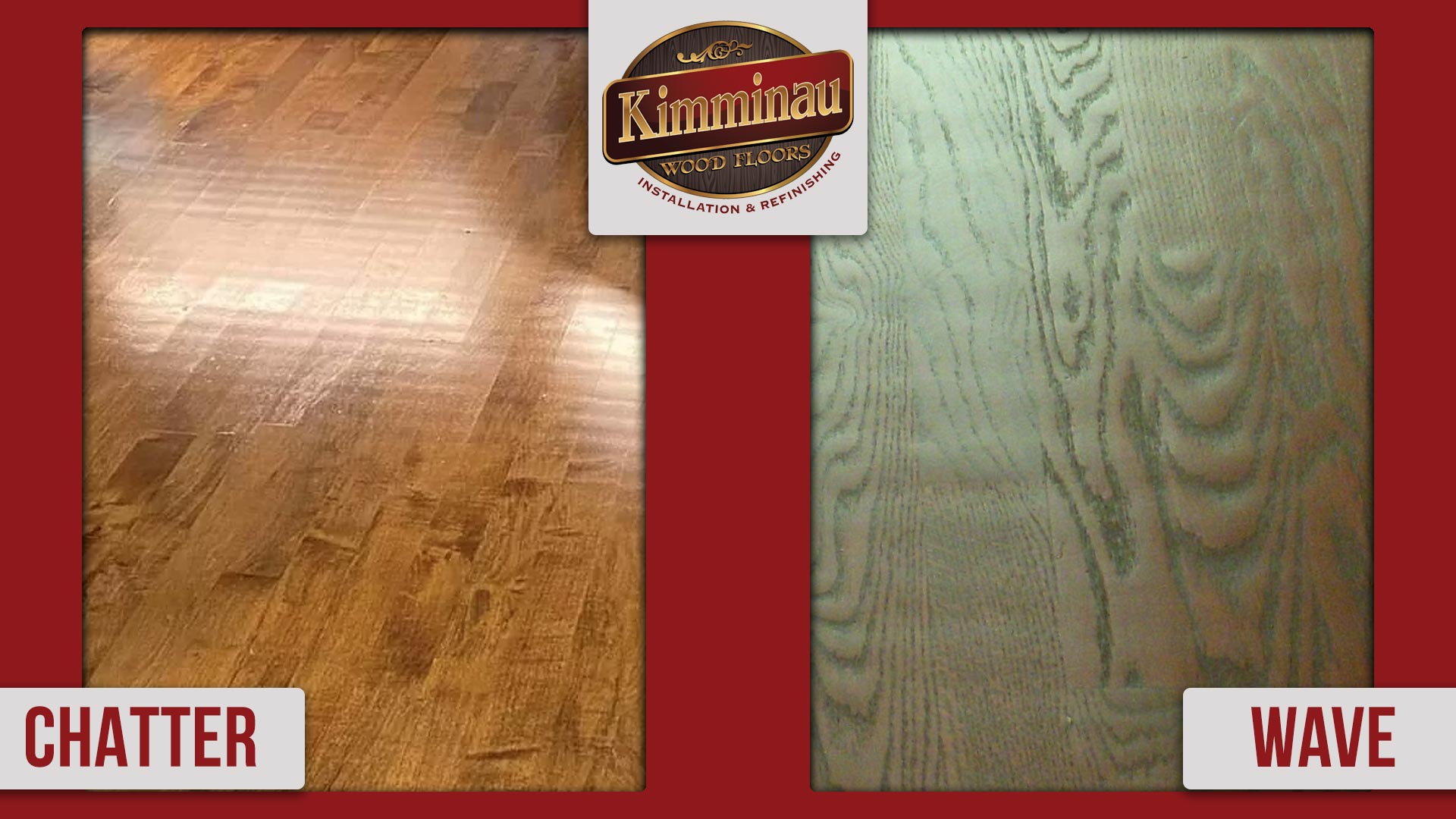 Chatter: This results in a ripple-like wave effect every few millimeters to an inch.
Wave: Similar to chatter, wave patterns appear as repeating indentations on the wood, ranging from 1″ to 3″ or more, peak to peak.
By being aware of these potential issues, hardwood floor craftsmen can ensure they maintain the highest level of precision and deliver flawless refinishing results.
So, why don't all contractors opt for this type of equipment? One probable reason is that the refinishing process may be slightly slower with this equipment compared to sanding with the traditional big machine. Additionally, this specialized equipment can be costly, and if a contractor's primary focus is on offering the lowest prices, investing in expensive machinery and additional labor might not be sustainable if they wish to stay in business.
Our Sanding Process vs. Traditional Model
Kimminau Floors Sanding Process
40/50 rough cut at an angle with Big Machine – purpose to remove all previous stain and finish and slight angle allow machine to cut flatter.

50 grit rough cut with Pallmann Spider Planetary at the maximum RPMs (320-400 RPMs)

50 grit rough cut with B2 Edger/Super 7

Vacuum entire Floor!

Trowel Fill Floor with sanding dust from refinishing process.

80 grit passes with Pallmann Spider Planetary at 240 RPMs

100 grit fine pass with SE7 Edger/Flip

Scrape and hand sand corners

Vacuum entire floor.

100 grit fine passes with Pallmann Spider at 160-200 RPMs

Palm sand perimeter/Hand Sand corners

Vacuum entire Floor.

100 grit final buff 5" mesh power buffer (multi-head attachment)

Vacuum entire Floor, Window Seals, Baseboards, Vents, counters, – get house clean as possible!

Tampico Brush – remove dust from soft grain, allows for more even sealer color.

Vacuum and dry tack

Water-Pop to open grain for more consistent color.

18.

 

Buff on stain or apply sealer.
Rough and Buff Specialist Process
36 grit rough cut with Belt Sander

36 grit rough cut with Edger 

Trowel fill floor with filler

80 grit sanding pass with Belt Sander

80 grit sanding pass with Edger

100 or 120 screen on Buffer

Vacuum Entire Floor

Apply Stain or Sealer.
You should now see that hardwood floor refinishing is not a commoditized service. There are genuine craftsmen who are passionate about delivering exceptional floors, as well as numerous low-cost providers who are solely focused on getting the job completed as quickly as possible. The difference between the two is evident in the quality of their work and the level of dedication they bring to the craft.
As you compare the two sanding processes presented above, let's examine the fundamental differences between them:
◦   Grit Progression: Jumping from 36 to 80 skips three grit progressions (40, 50, 60). This creates deep scratches, leading to inconsistent coloring, and the finish may not provide adequate protection, as it can soak into the wood instead of forming a protective layer.
◦   Planetary Equipment: Utilizing planetary equipment results in a flatter floor, refined scratches, and ultimately a finished product with extended durability.
◦   Vacuuming between Passes: Though it may seem inconsequential, vacuuming between each pass yields a much better scratch pattern on the floor.
◦   Handwork for Perimeter: Implementing extra handwork around the perimeter ensures a superior blending of the field with the perimeter, producing a seamless and polished finish.
Each additional step we take during the refinishing process adds substantial value. The outcome is a floor that not only looks significantly better but also boasts extended durability. While choosing a qualified craftsman for sanding may entail a slightly higher upfront cost, the long-term return on investment will far surpass what you'd get from hiring a rough and buff specialist. Prioritizing quality craftsmanship ensures a floor that not only enhances your space but also stands the test of time.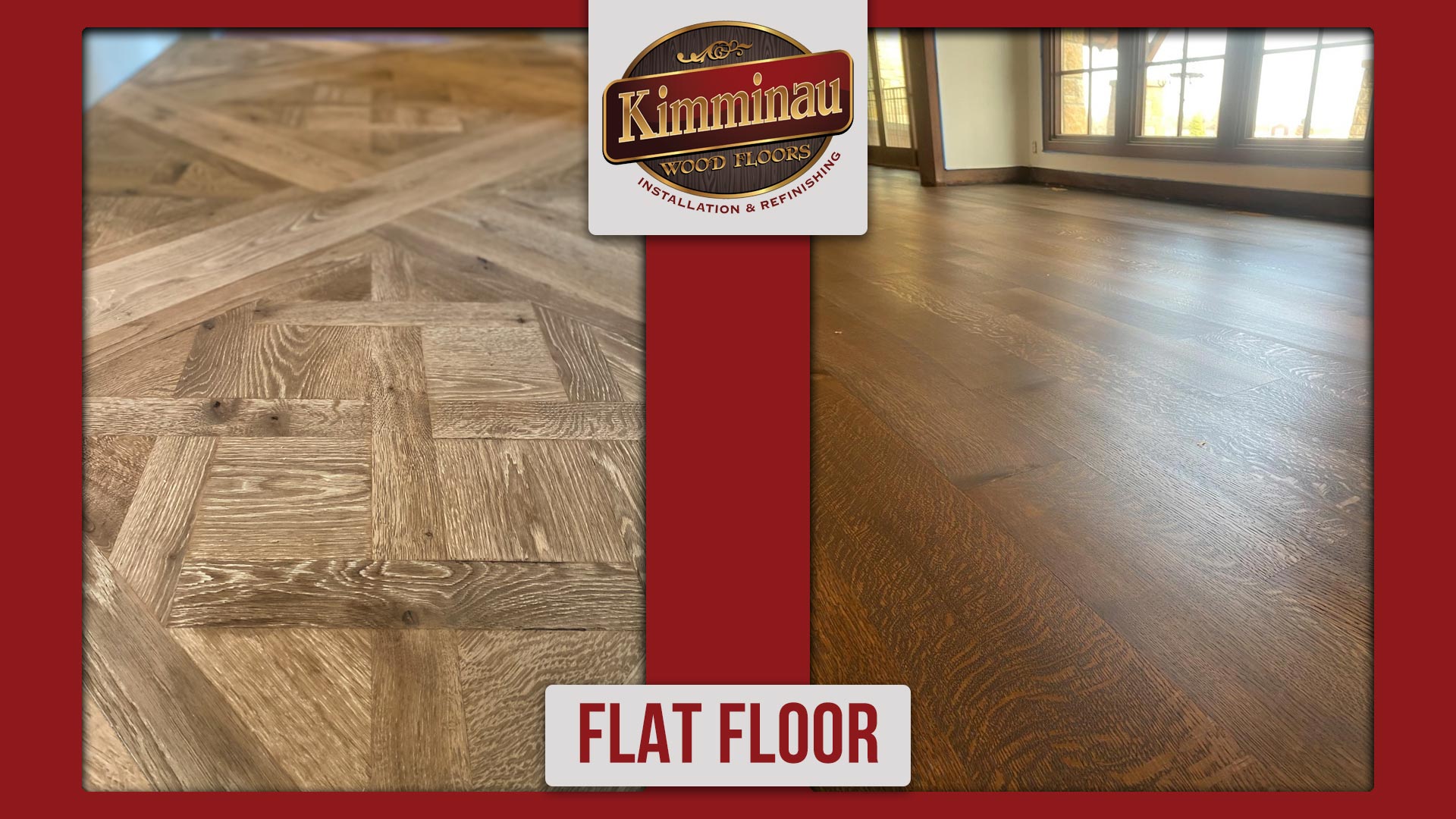 Our Commitment To Clients
As flooring professionals, we strive to stay educated on the various flooring systems available on the market. We stay at the forefront of new advancements in the flooring industry through continued education and training courses provided by the National Wood Flooring Association. Our knowledge enables us to educate our clients on the pros and cons of various hardwood solutions.  Our job is to listen to our clients and provide solutions that best fit their lifestyles. We provide easy and stress-free installations by staying informed, prioritizing clients' needs, and setting proper expectations.