One of the most common questions we get from homeowners is, "Can you remove these pet stains?" Pet stains are a disgusting reality that many hardwood floor professionals face quite frequently.   The urine from pet stains will soak into the wood and turn it very dark.  It also leaves a nasty smell.  Sanding a pet stained floor will usually require a full-faced respirator.  Let's go over a few solutions provided by Kimminau Floors.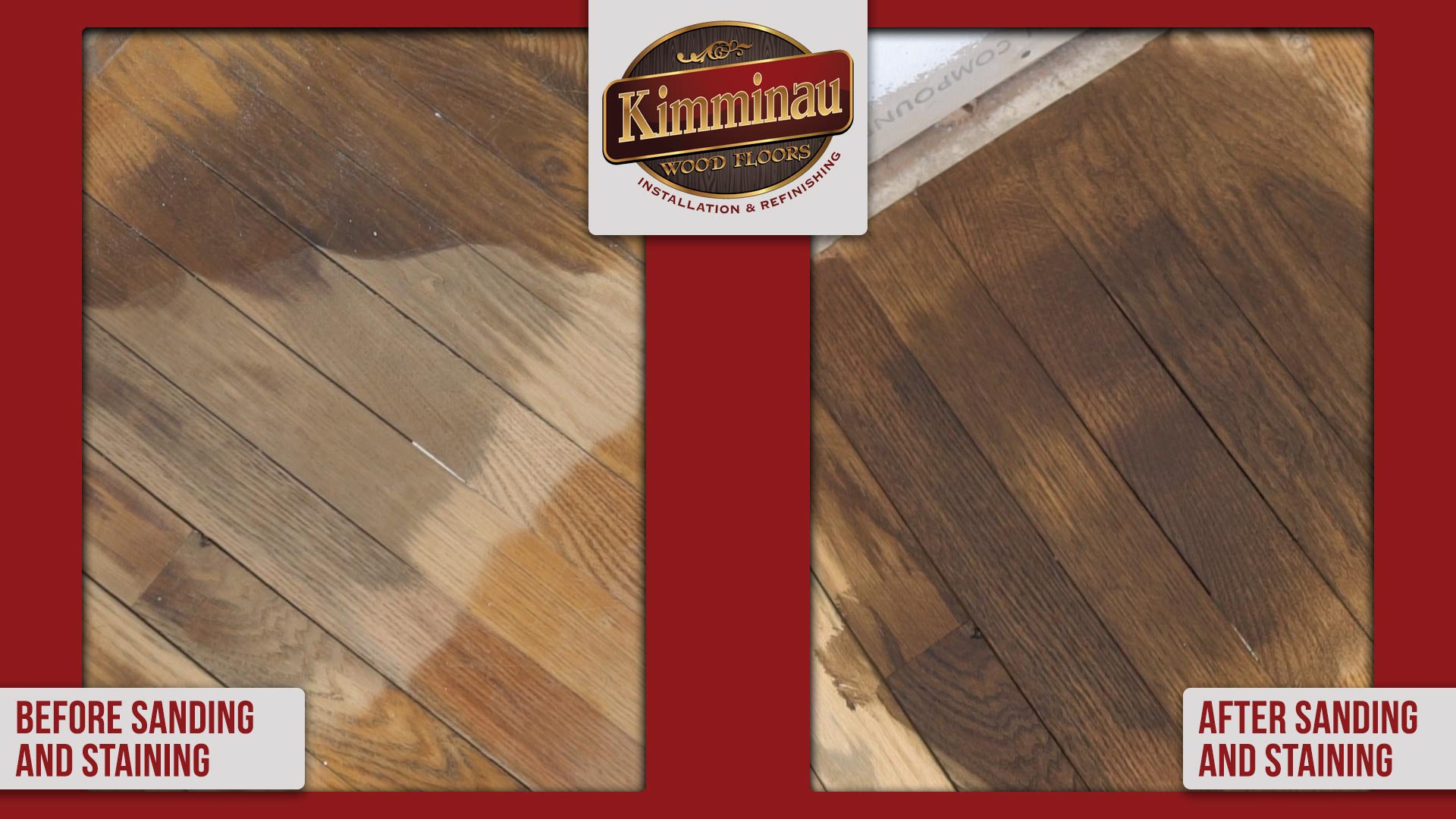 Sanding your hardwood floor will not entirely remove a pet stain and the results are fairly unpredictable.   Usually about 50% of the stain is removed.  If you're considering a darker stain, this will help hide the stain and will save you the costs of full replacement.  We can even tint our finish with dyes or pigments to help alter the appearance, but chances are you will still see a slight shadow of the damaged area.  
This is the method most of our clients select if they're staining their floor a darker color.  We have tried bleaching (hydrogen peroxide) and have had very little success.  This may alter the color on the surface, but we've had better success with tinting our coats to blend the area.
If you plan on keeping your floor a lighter color or want the stain completely removed like it never happened, then your best option is to remove the damaged planks and lacing in new hardwood.  Once the entire floor is sanded and finished, you will not be able to tell where the new wood was added.  This option is obviously a bit more expensive and depending on the number of stains, may require the entire floor to be removed.  
Our sales consultant will be able to price out both options on your proposal.  The best option for each client will vary and will depend on a number of factors ranging from budget, desired floor color, and the number of pet stains.
Our Commitment To Clients
As flooring professionals, we strive to stay educated on the various flooring systems available on the market. We stay at the forefront of new advancements in the flooring industry through continued education and training courses provided by the National Wood Flooring Association. Our knowledge enables us to educate our clients on the pros and cons of various hardwood solutions.  Our job is to listen to our clients and provide solutions that best fit their lifestyles. We provide easy and stress-free installations by staying informed, prioritizing clients' needs, and setting proper expectations.