What is the single most important thing you can do to extend the life of your floor?  Probably the most unadvertised and neglected service in the hardwood floor industry.    Gym floors do it every summer, but homeowners rarely do it.  We're on a mission to change that.  Let's dive in and see why more people aren't aware of this service and why you should be!
Traditional Screen & Coat Process
The traditional process for applying a maintenance coats was often referred to as a "screen and coat".   This involved buffing the floor with a screen, vacuuming and tacking the floor clean, followed by a top-coat of oil or water-based urethane.  This process is inadequate and prone to adhesion failure (peeling).  Many hardwood contractors have been burned by this process and have stopped offering it as a result.   The failures are many times caused by cleaning products offered by your local hardware stores that leave a wax, polish, oil, or soap residue on the floor.  As a result, many contractors have stopped offering this service to their clients.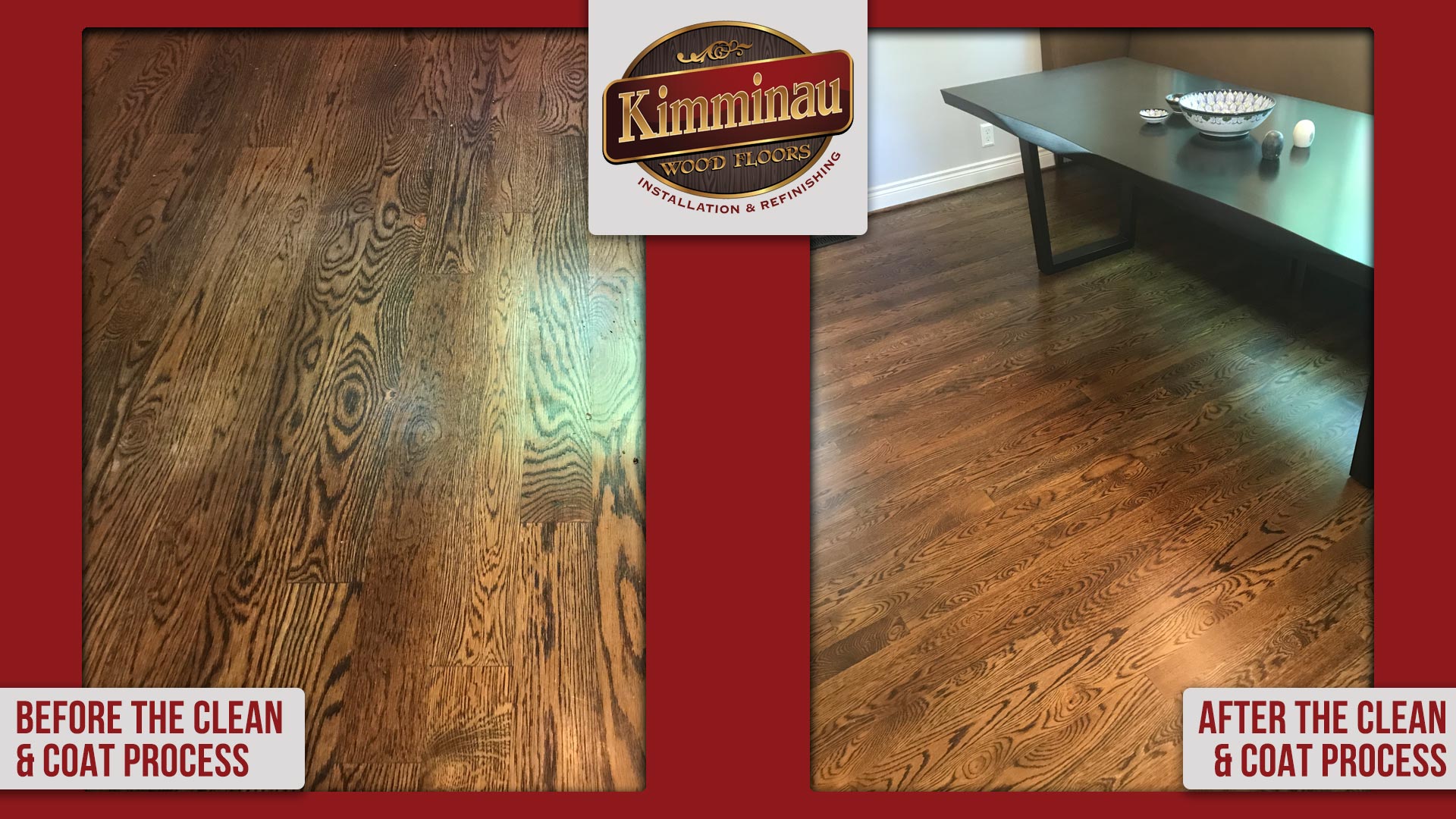 New Improved Clean & Coat Process
The clean and coat process offered by Kimminau Floors has several extra steps that provide safeguards against these cleaning/polishing products.   
We first clean your floors with a professional hardwood floor scrubber.

 

It's very important to remove all of the contamination on your floor.

 
Once the floor is clean, we buff the entire floor to remove surface scratches.

 

This buffing process also helps provide a mechanical bond for the new finish.

 
We then provide an adhesion promotor, aka bonding agent.

 

This product is designed to bond to your existing floor and the new coat being applied.

 
Apply a finish coat with two-component commercial grade water-based urethane in the sheen of your choice.

 
This process is 100% dust-free, can be completed in a single day, and costs about 20% of the refinishing process. 
How Often Should I Complete the Clean & Coat Service?
Depending on the foot traffic in your home, your hardwood floors will need a maintenance coat every five to seven years.  If you follow this process, your floor will last 30 to 40 years before it needs to be refinished again.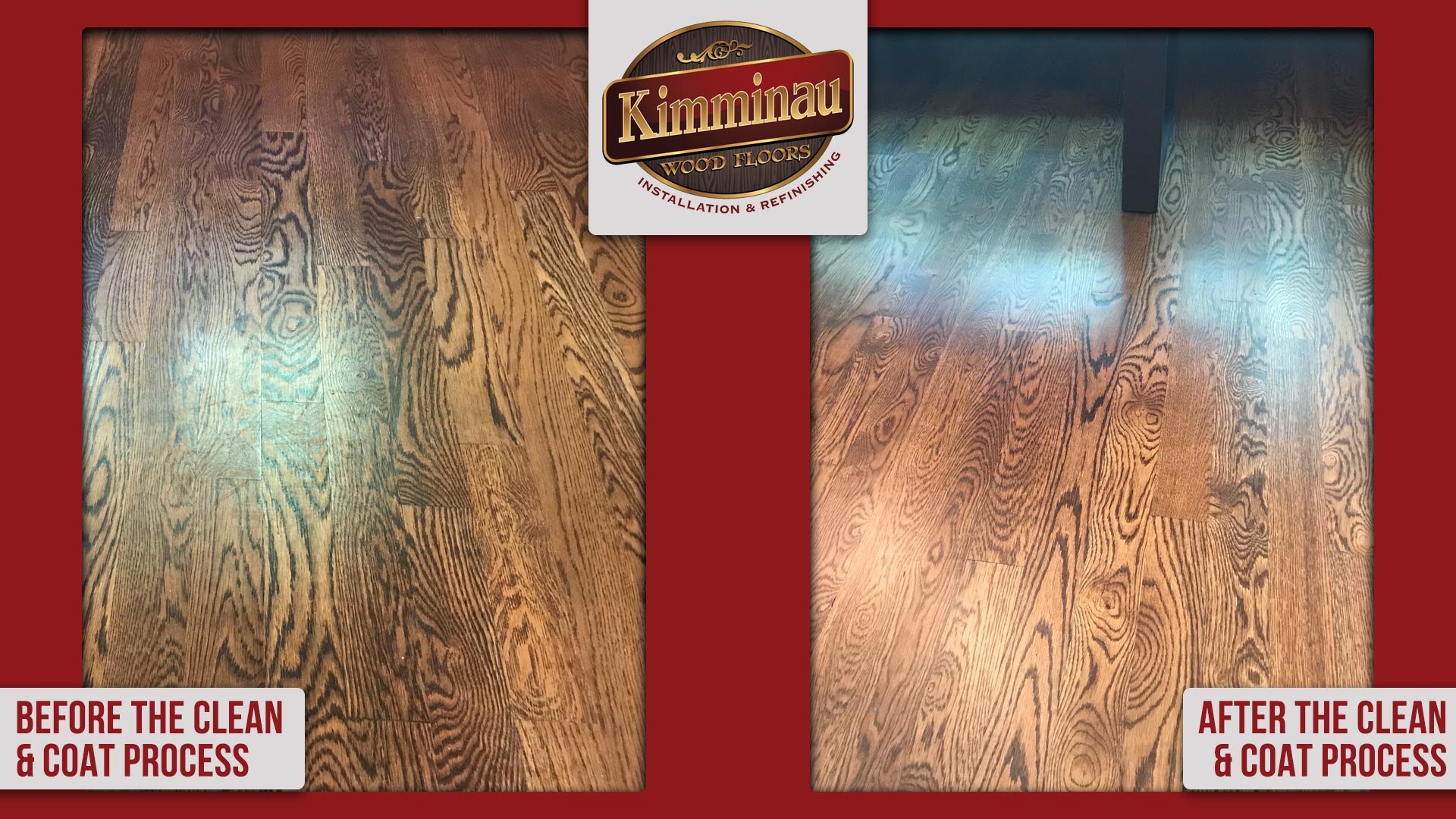 How Long Does This Service Take?
Most of our clients leave for work as we start cleaning in the morning, and by the evening, they can walk around the house in socked feet. The cleaning process is dustless and odor-free, so you will not come home to a putrid smell and a dusty house. The finish will be fully cured in 48-72 hours at which point your furniture can be returned.
Additional Benefits Of This Service
Putting hardwood floors in your home provides the greatest return on investment of any floor covering. They can last a lifetime, but only if you properly maintain them. Below, we have listed major benefits of scheduling regular cleaning and coat services for your hardwood floors:
Is a fraction of the cost of a complete refinishing process.

 
Restores your floor, removes surface scratches, stains, and scuffs.
Extend the lifespan of your hardwood floor for another 5-7 years.

 
Can alter the sheen of your current floor finish.

 
Completely dust-free and low VOC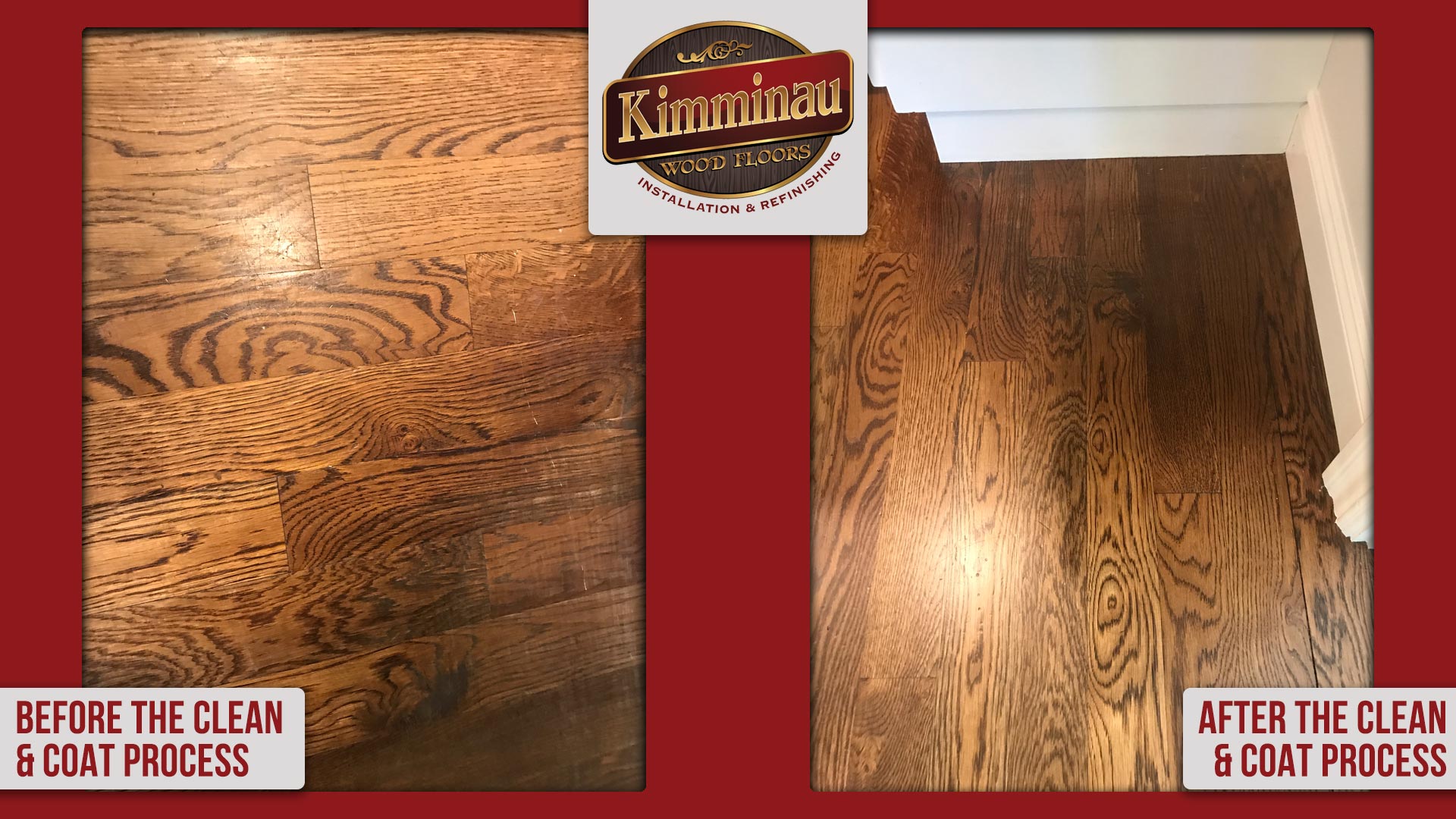 Our Commitment To Clients
As flooring professionals, we strive to stay educated on the various flooring systems available on the market. We stay at the forefront of new advancements in the flooring industry through continued education and training courses provided by the National Wood Flooring Association. Our knowledge enables us to educate our clients on the pros and cons of various hardwood solutions.  Our job is to listen to our clients and provide solutions that best fit their lifestyles. We provide easy and stress-free installations by staying informed, prioritizing clients' needs, and setting proper expectations.